To really appreciate this before and after, you have to understand just how bad the before was.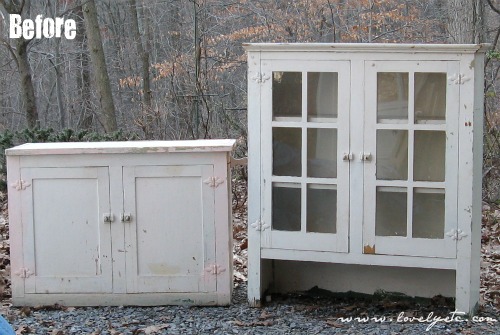 My stepdad rescued this antique kitchen cabinet from the side of the road more than six years ago. It was in really sad shape but underneath the muck and grime, was an awesome antique. My parents kept it for several years but never had the time to fix it up so they passed it on to me. And then it sat in my basement…and sat…and sat – for three more years.
I decided it was finally time to tackle this beast. This guy had the original hardware, great glass doors, and gorgeous proportions. But it also had layers and layers of old peeling paint, broken molding, random nails sticking out, and a rotten back. Not to mention, it must have been in a corner, because one side had never been painted.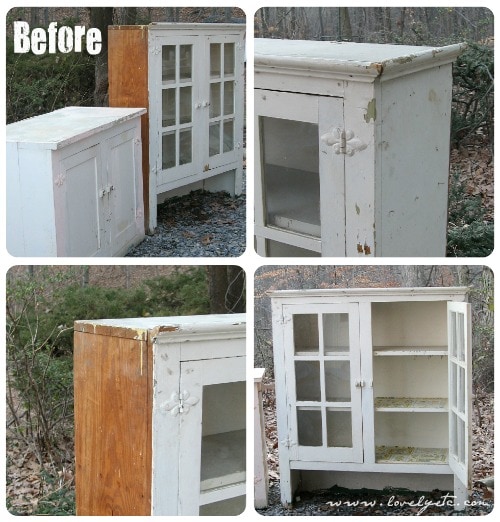 This piece was a huge pain to work on. I removed all the chipping loose paint, sanded everything down, removed the broken moldings and other unnecessary parts, stripped out the ugly shelf paper, and replaced the entire back. And all of that was before I could even begin painting – torture!
But then it was finally time for the fun part. I knew from the beginning this piece was not going to be a sleek and smooth painted piece. There was no way I was going to be able to strip all the many layers of old paint. Even after all that preparation, this cabinet was still showing its age so I decided to embrace that.
I primed the entire piece with Zinsser oil-based primer. Then I chose a few bright colors of paint I had on hand and painted various areas of the cabinet, focusing on the edges and rough spots.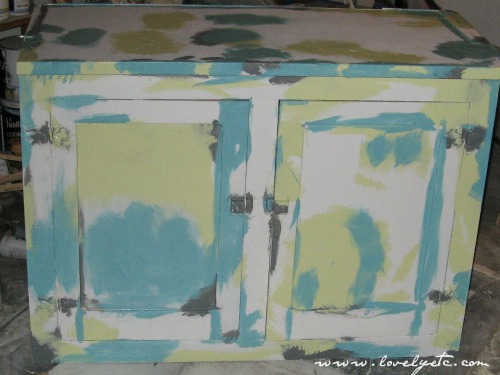 At this point, it looked a little bit crazytown. But then I followed up with two coats of homemade chalk paint in white.
And finally, I sanded the entire thing, focusing on the edges and rough areas to reveal hints of the color underneath.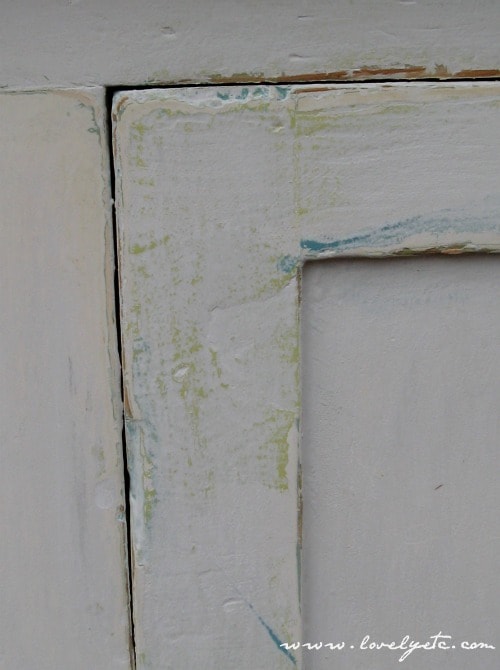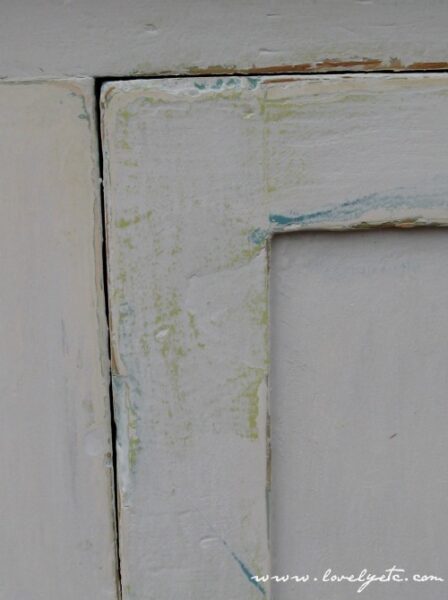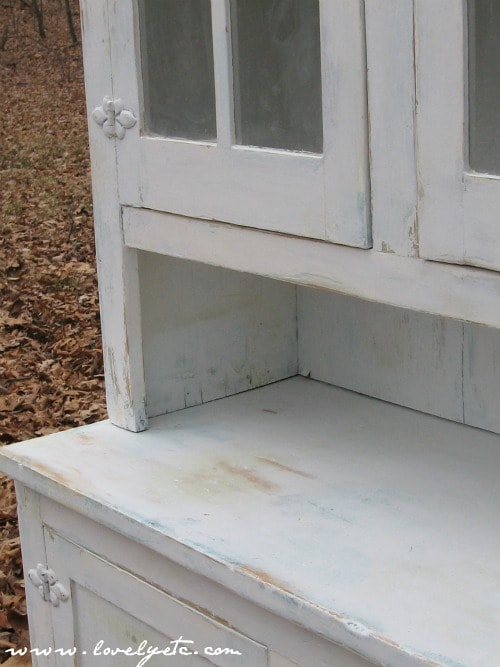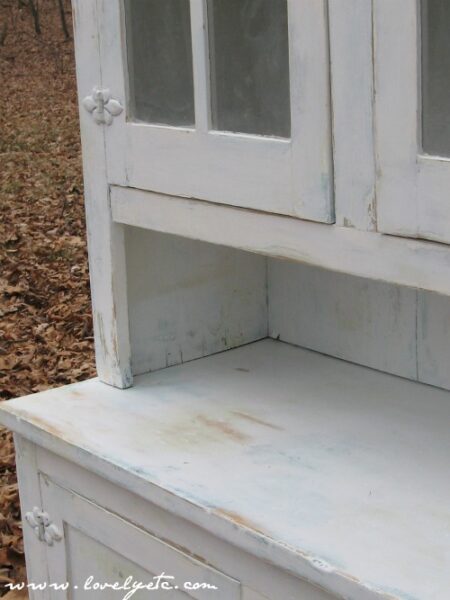 I tried to really emphasize and celebrate the age of this piece rather than trying to make it look new. It turned out much more primitive than my usual style, but I think in this case it was the perfect choice.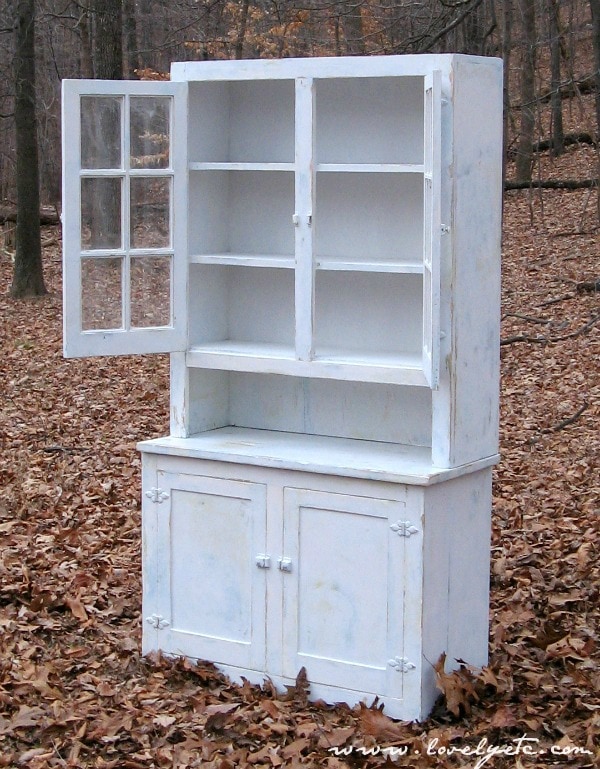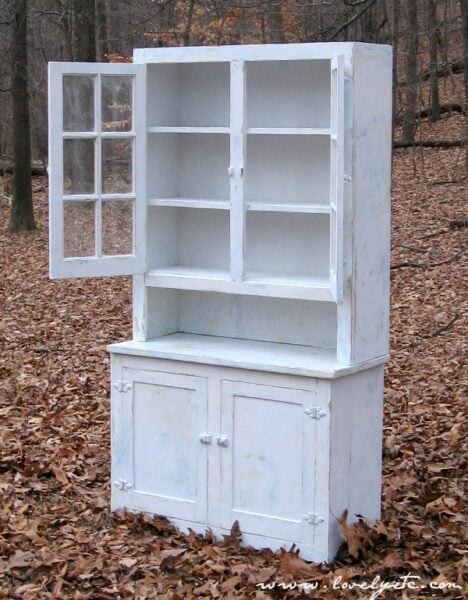 This was my first experience with homemade chalk paint. I liked the results but I need to experiment some more before I reach any real conclusions. I'm especially interested to see how it works on an unprimed piece.
So what do you think? Are you a fan of primitives or are you more into a fresh, smooth finish? Anyone else out there have a furniture project that just felt like torture?