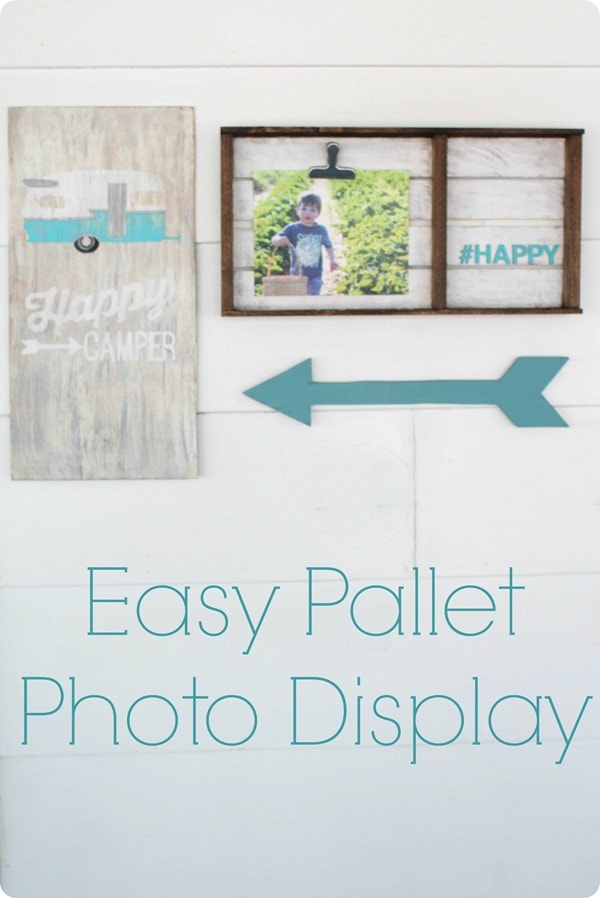 This pallet photo display is the perfect way to add a little extra personality to your walls. And even better, it was incredibly easy to make. (That's right – no ripping up of old, dirty pallets required. The absolute hardest part of this project was deciding what paint colors to use.)
I am thrilled to be joining up with an amazing group of creative bloggers today for the Create and Share Challenge. It's a monthly challenge where a group of bloggers each starts out with the same basic item and completely transforms it into her own creation. I love seeing how many different directions one little item can go.
This month's challenge was sponsored by Walnut Hollow, who provided each blogger with one item to transform. I started out with this rustic pallet tray.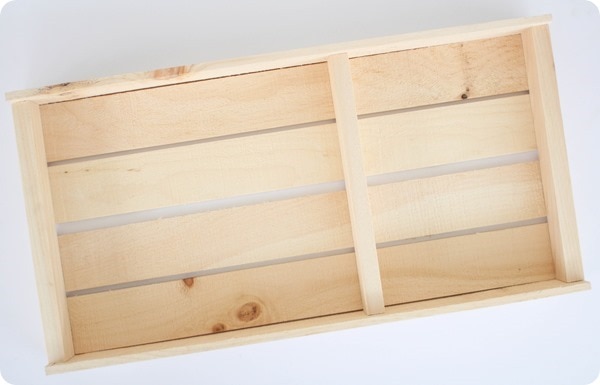 It was a cute little tray, but I had a different idea for it. I am always looking for creative ways to display my absolute favorite kind of art – family photos – and this fit the bill perfectly. The large section is the perfect size for framing an 8 x 10 photo and the smaller section is perfect for adding a little personality.
This post contains affiliate links. See my full disclosure here.
Materials needed for Pallet Photo Display
white paint (I used Americana Decor chalky finish paint in Everlasting)
stain (Minwax English Chesnut stain. This is my favorite not too dark, not too light stain.)
wood letters
aqua paint (Americana Bahama Blue)
white school glue
picture hanger
I started by painting the planks white and staining the frame.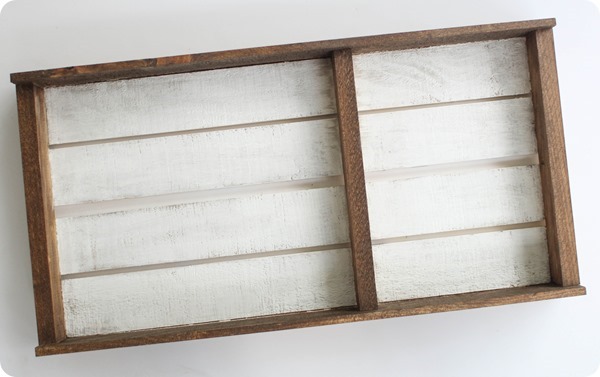 One of my biggest goals for our home is to make it a happy landing place for our family. I want our home to be light and colorful and full of happy memories. I want it home to be a place where we can rest and be refreshed and feel renewed. And at the end of a long, hard day, I want to be able to come back home and put my feet up and remember that life is still good. So when I was trying to figure out what message to add to the other side of my frame, nothing seemed as fitting as the super simple #happy.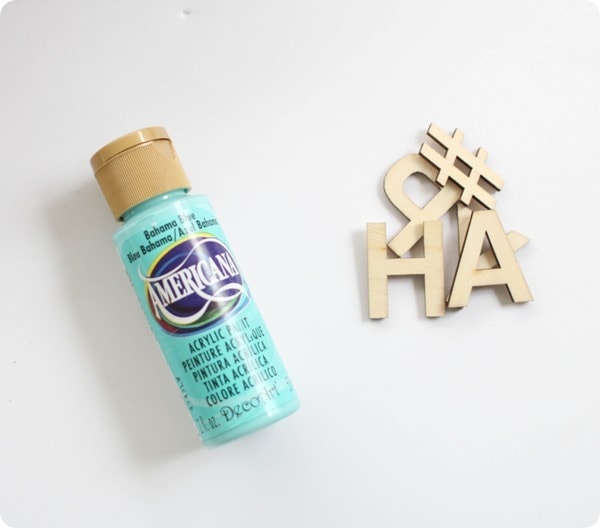 I painted some small wooden letters aqua. All it took to attach them was some simple white school glue.
For the photo side, I used a large metal clip. I just nailed in a small nail and hung the clip on it.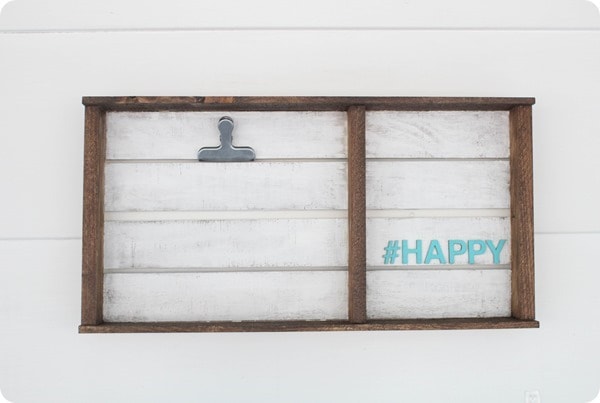 Then it was just a matter of attaching a picture hanger to the back and selecting a photo that makes me smile! This was such a fun, simple project – I think I need more projects like this in my life!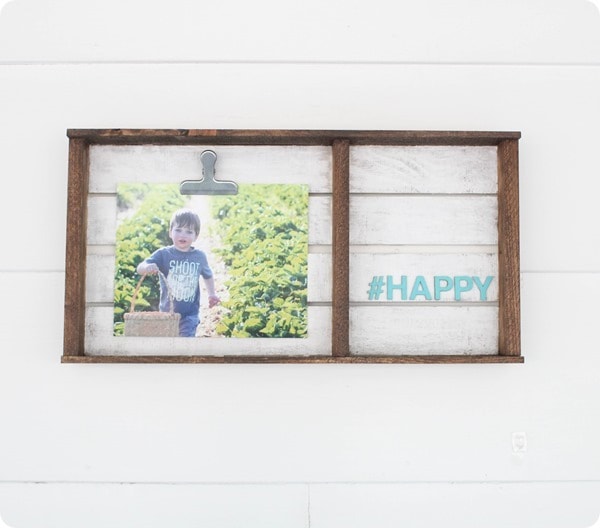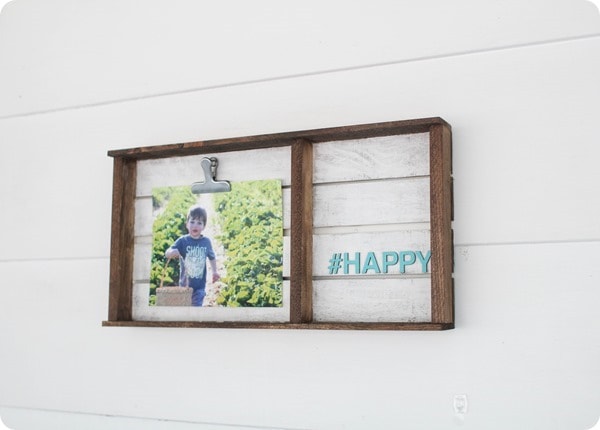 Love! For me, this is the perfect blend of rustic and modern, industrial and colorful, beautiful and meaningful. Very much #happy! I couldn't resist playing around with creating a little gallery wall to go with it.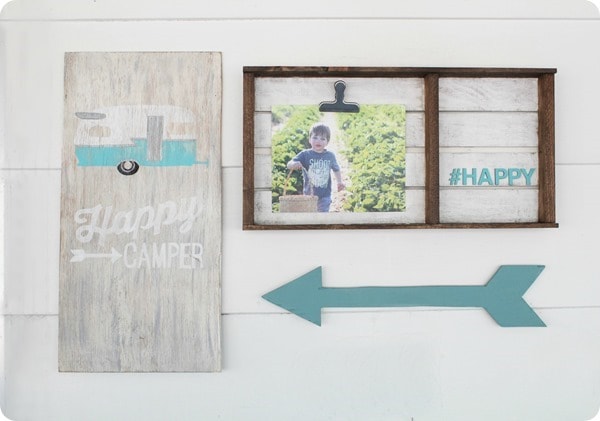 And now you have got to check out the other fantastic projects shared in the Create and Share challenge. The creativity is blowing me away – and getting my creative juices going in hyperdrive!
Homeology: Rustic Modern Wall Clock