I am definitely not an interior designer. I don't know most of the rules of design or the correct terminology for things and I could care less what is in or out at the moment. But what I have finally learned over the past few years is how to put together a room that I love, that is totally my style.
Today I am really excited to be joining with a fantastic group of bloggers put together by Stephanie at Casa Watkins Living. Each of us will be sharing our journey to discover our individual style complete with lots of before and after photos. (Because before and after photos are always the best!) I especially love that this group represents so many unique home styles – it makes it that much easier to find someone whose style matches your own.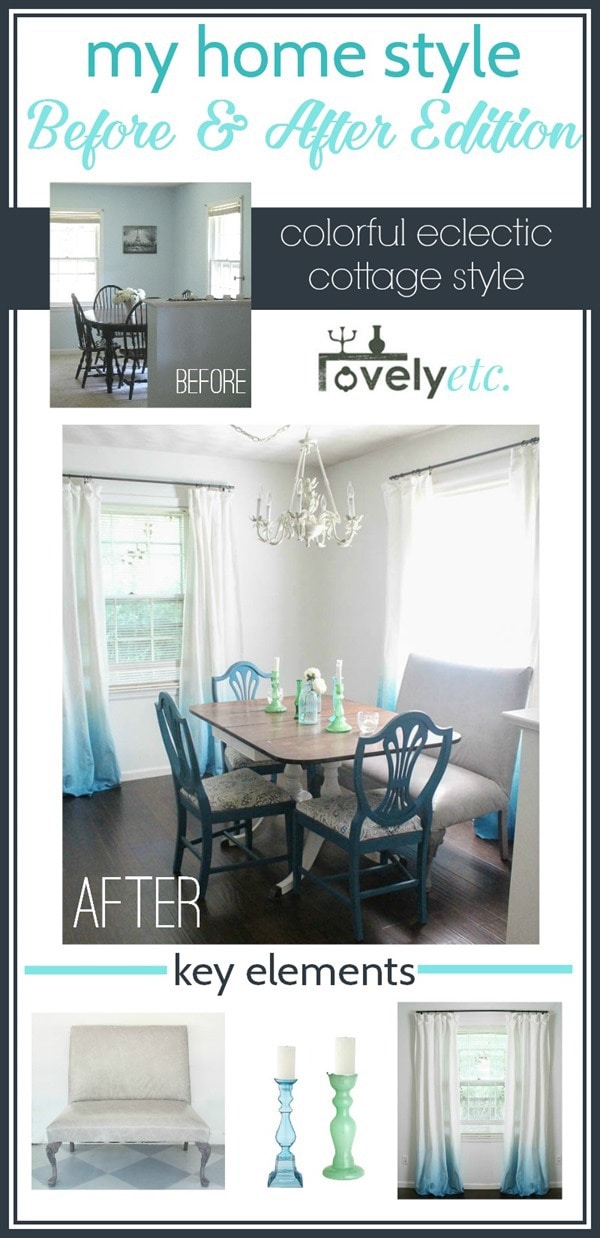 For many years I honestly had no idea what my own style was. I loved my friend's red shag rug so I bought two for our family room. (Even though I don't like the color red!) I saw people painting all the walls in their homes different colors on HGTV so I did the same thing. And I was bit by the thrifting bug pretty hard, so for awhile if it was a great deal, it was by default going to be somewhere in my home. All of this made for a house full of rooms that were totally unrelated, never felt right, and looked more like a haphazard collection of items than an actual style.
Last year, we were challenged in the first My Home Style blog hop to define our style in three words. It was really hard to narrow it down to just three things that encapsulates everything I want my home to be! After a lot of thought I settled on colorful ectlectic cottage. I share more about what that means in the original post, but basically I love mixing vintage and modern, adding weathered wood and painted furniture, finding quirky accessories, and bringing everything to life with lots of color!
This post contains affiliate links. Thanks for supporting Lovely Etc. See my full disclosure here.
I don't have pictures of our home when we first moved in eight years ago before I started painting all the things. But I do have a few grainy pictures from a couple of years after we settled in. (Sorry for the terrible before pictures –it's all I've got!)
This was our living room several years ago. Clearly everything is thrifted (and not in a good way) and that saggy slipcover is hiding a monstrosity of a pepto bismol pink couch. But worst of all is my commitment to matching that shade of blue in the wall color, curtains, and throw pillow. Back then, if you asked me about my decorating style I would have mumbled something about vintage and blue. And while yes, I do still love to decorate with both vintage and blue, those two things in no way add up to a style.
This is my dining room around that same time. (The monochromatic curtains seem to be missing in this picture.) There is absolutely nothing wrong with this room. But it is so boring. A table, flowers, one painting. Thank goodness for those flowers!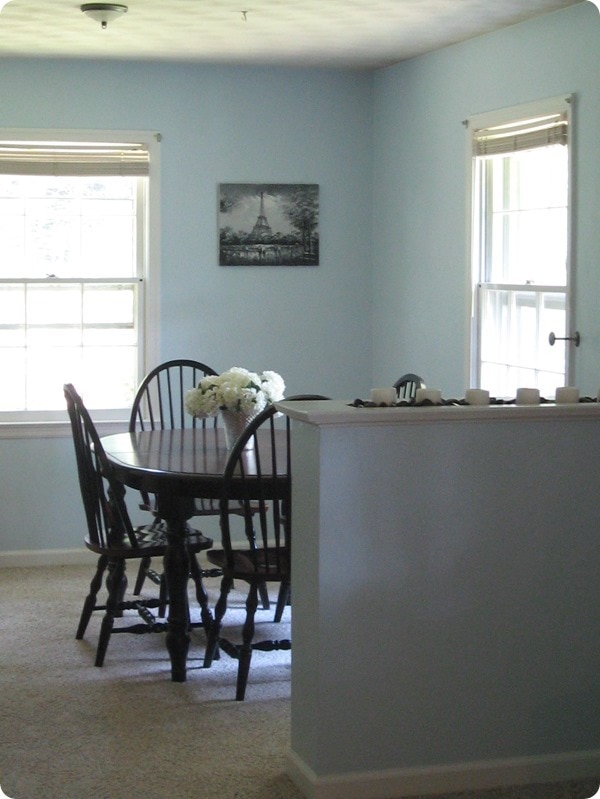 Thankfully, I have learned a few things over the years. I started paying attention to what things I truly love rather than just looking for anything pretty and inexpensive. And then I started transforming all of the random stuff I had accumulated into things I loved.
And most of all, I got brave and started taking risks!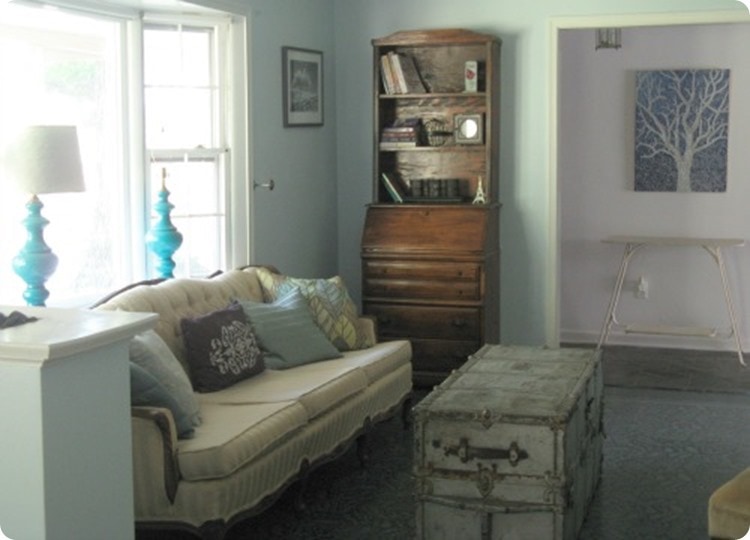 I painted the floors and replaced the couch with a better vintage model (also thrifted).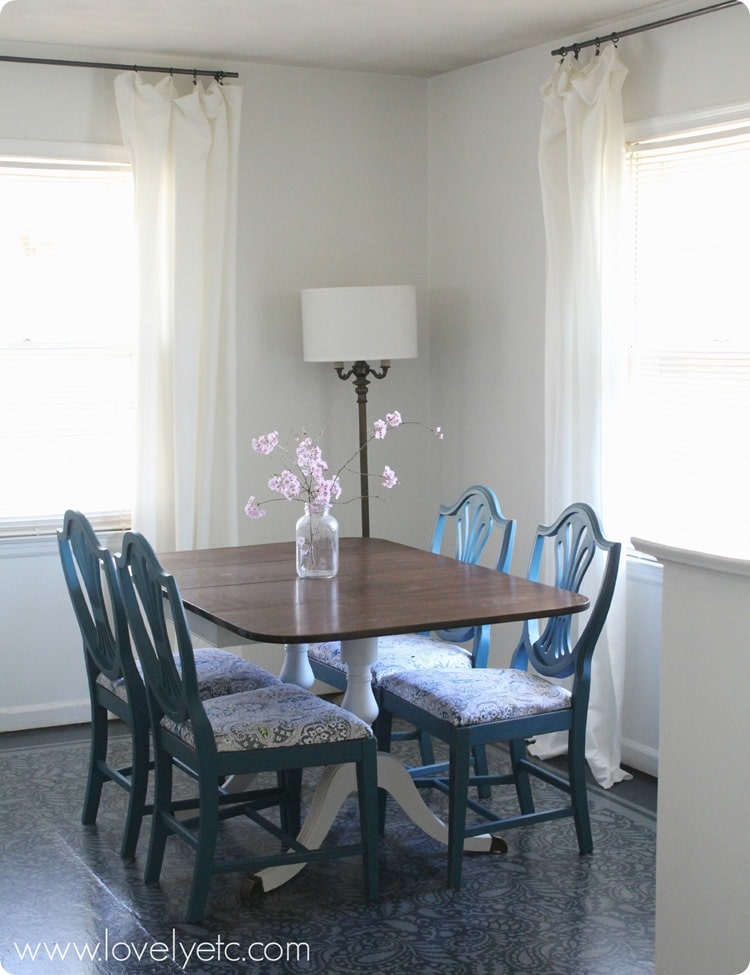 I painted the walls white and started incorporating pops of color all over the place. And this is what I have today – my colorful, eclectic cottage living room and dining room.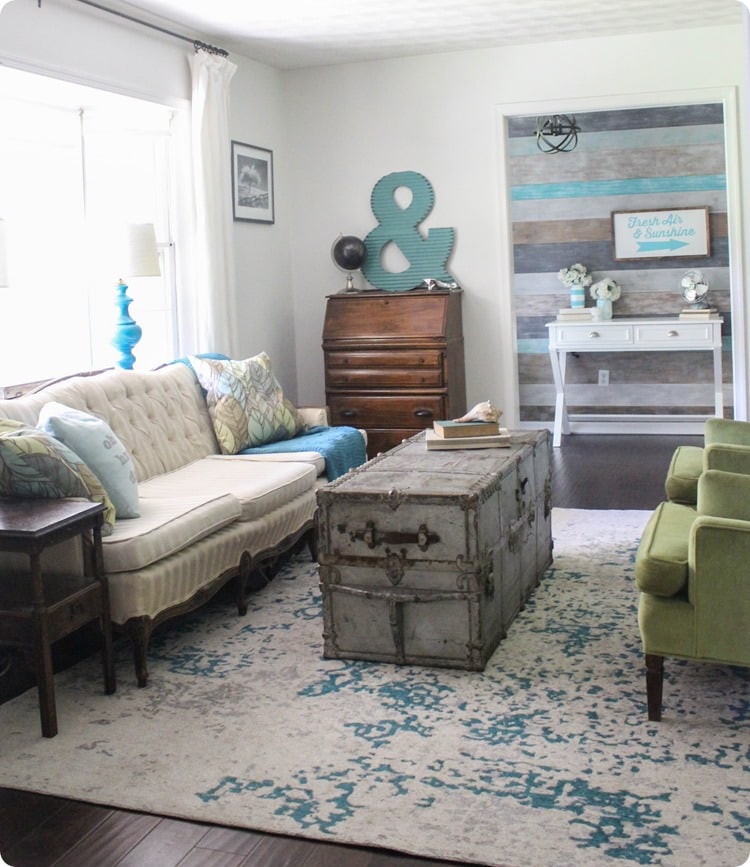 Almost everything in these two rooms is either a yard sale find or a DIY project so it wasn't that the rooms came together because I went on a shopping spree. I simple learned what I love. Clean white walls. A mixture of vintage pieces and clean lines. Pops of saturated blues and greens. Modern fabrics.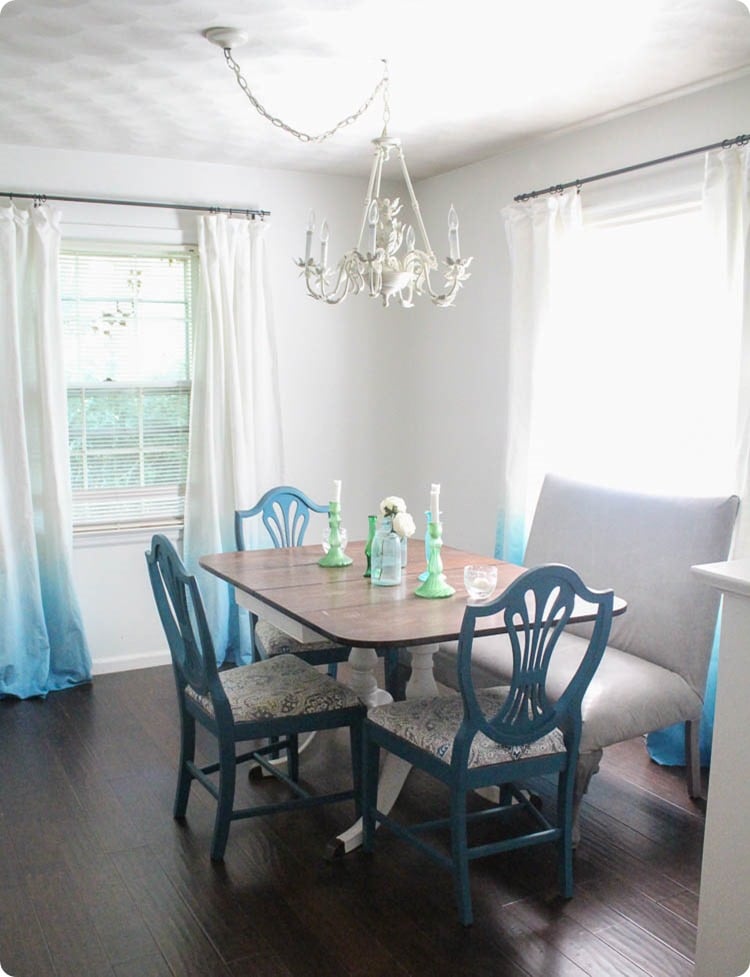 Do you see something that fits right in with your style too? I have all the links you need to both shop the room and recreate the DIY projects. (Of course since most things were purchased second hand, I linked to similar items if possible.)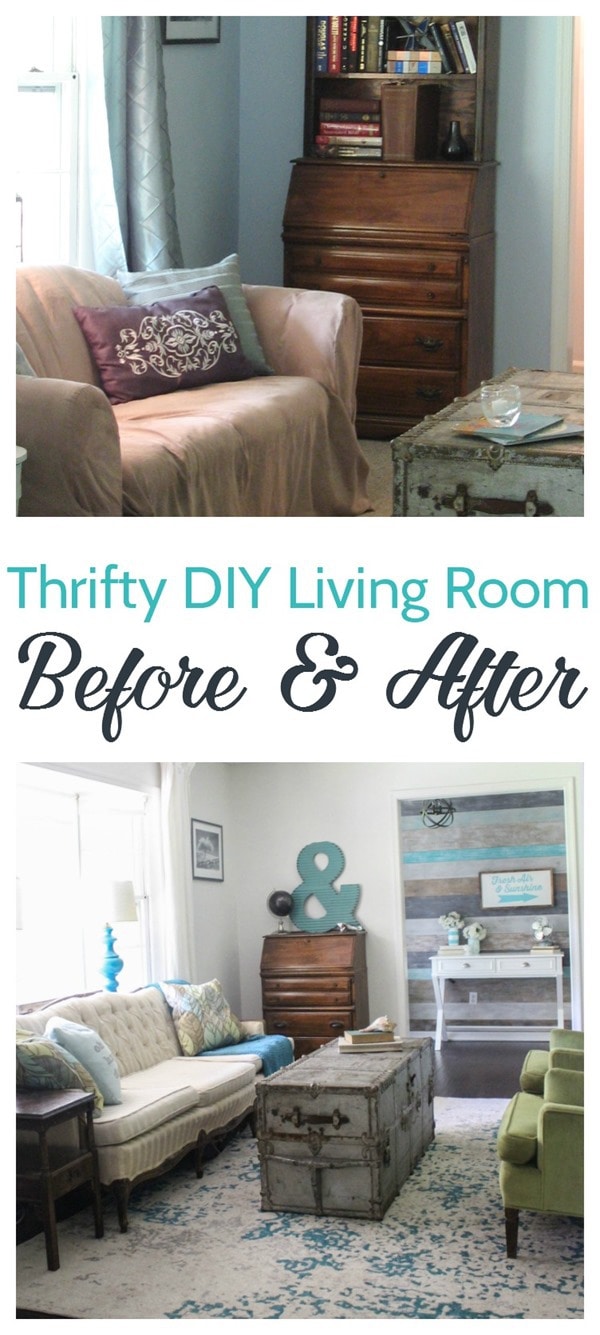 Living Room DIY Projects
Upcycled Industrial Light Fixture
Shop the Living Room/Entry
Turquoise ceramic lamps (similar)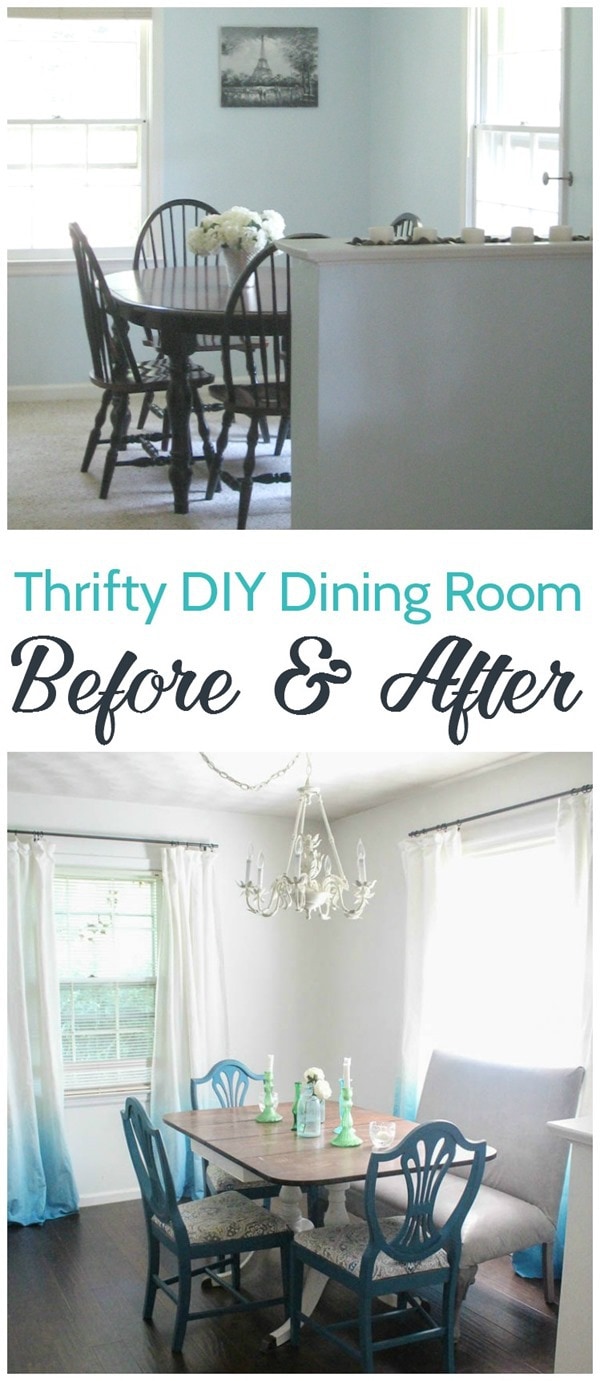 Dining Room DIY Projects
Painted chairs with shower curtain upholstery
Cheapest DIY curtain rods ever
Shop the dining Room
Upholstered Gray bench (similar)
Vintage style chandelier (similar)
And now the fun part – getting inspired by everyone else's home style evolution!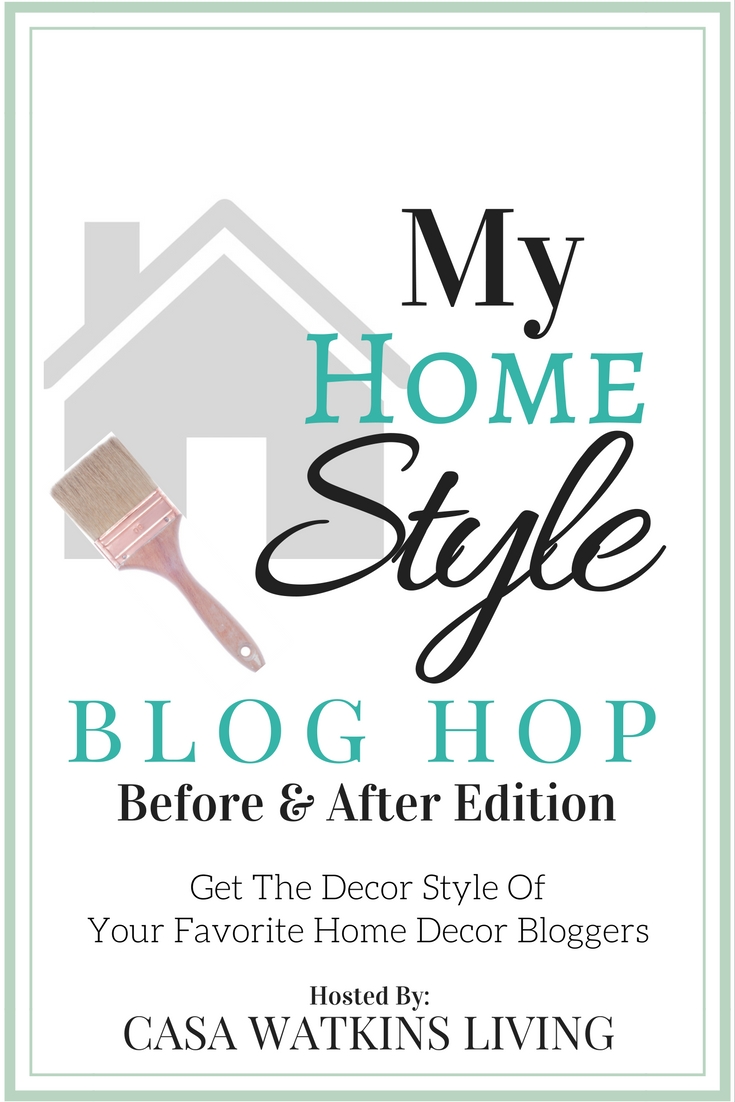 MONDAY
TUESDAY
WEDNESDAY
THURSDAY
FRIDAY