This house has been quite the journey! When we moved in, our little brick ranch wasn't quite sure if it was 1973 still or perhaps sometime in the mid-nineties. Updating all this on a tiny budget, doing one little project at a time has been a huge undertaking. We're still a work in progress over here, but things are definitely looking up!
Foyer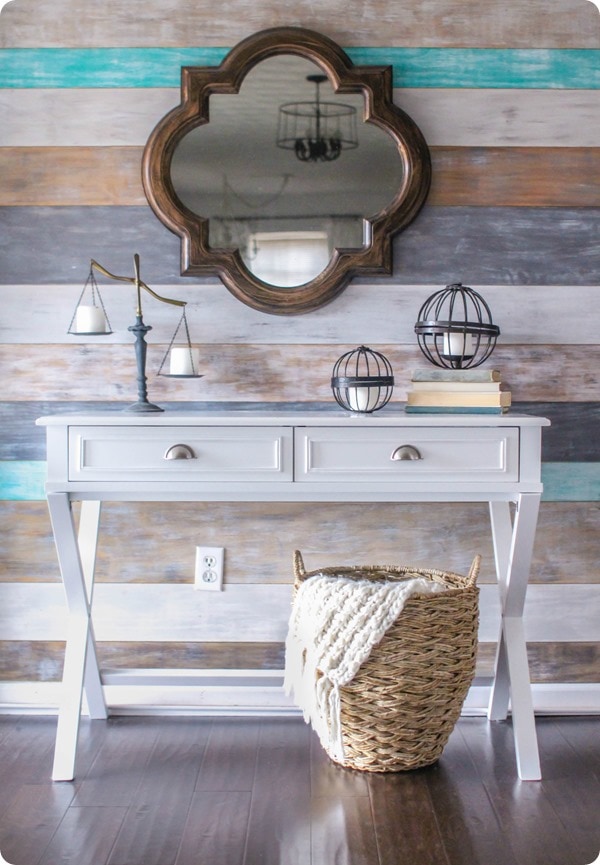 Welcome to our home! For a long time, our foyer was the ugliest room in our whole house, but a fun planked wall and some other touches completely brought it to life!
DIY Projects:
Living Room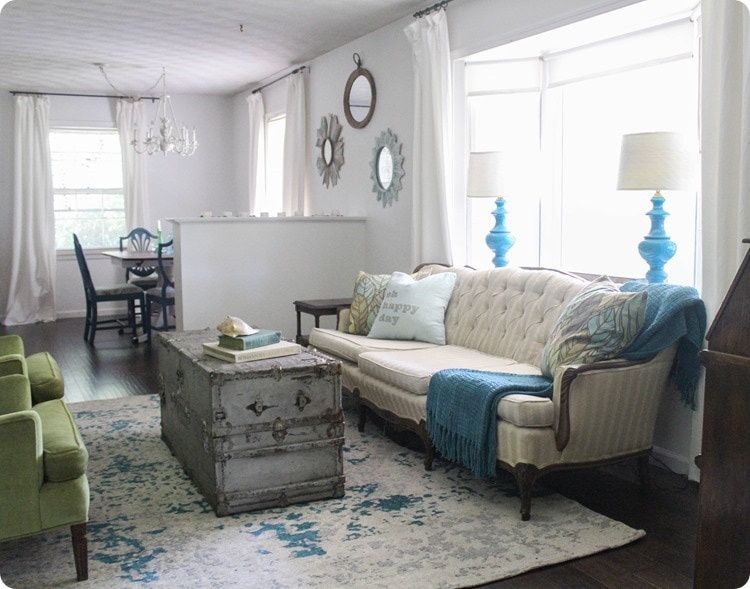 The living room is the first room you see after the foyer. It is full of color and almost everything in here is either a killer yard sale find or a DIY project.  (Those green chairs were only $30 for the pair!)  This room also used to have our gorgeous painted plywood subfloors.  We have since upgraded to hardwood, but it was tough letting go of those painted floors!
DIY Projects:
the cheapest DIY curtain rods ever
 Ikea Billy bookcases turned built-ins and transformed with a stencil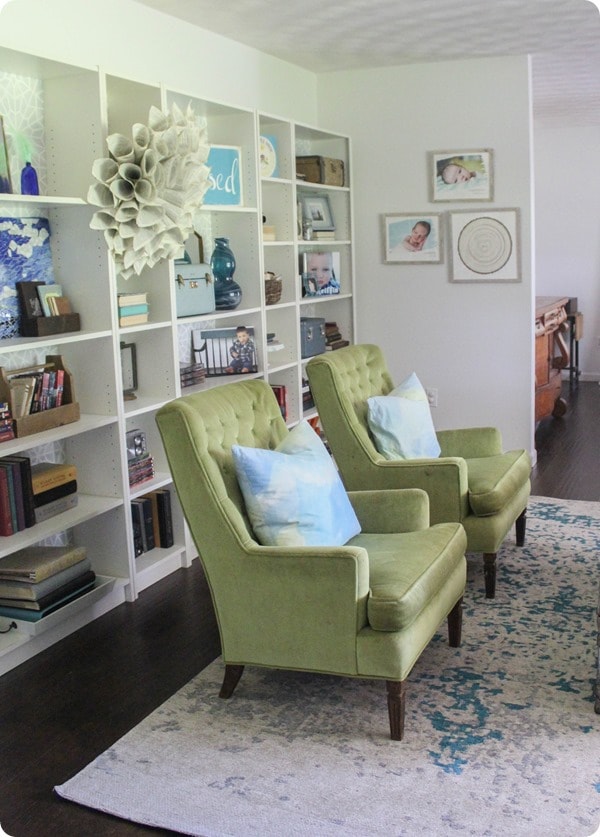 Dining Room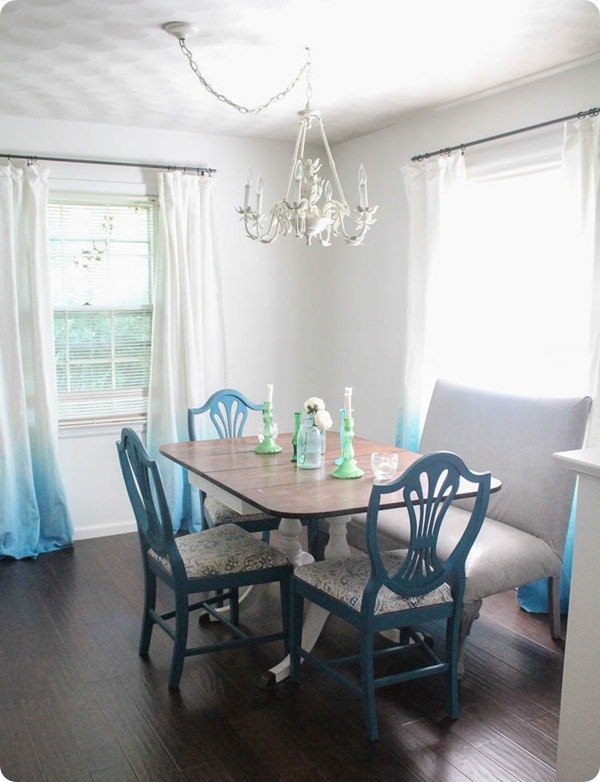 DIY Projects:
trash to treasure dining table
 dining chairs reupholstered using a clearance shower curtain
Family Room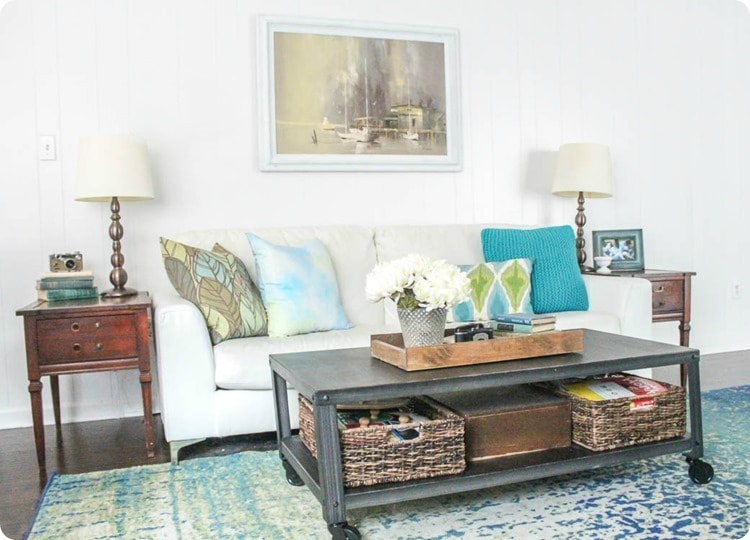 This is the room where we spend most of our time so it gets lots of use!  This room is still a definite work in progress, but the navy fireplace and that gorgeous rug definitely have things headed in the right direction.
DIY Projects: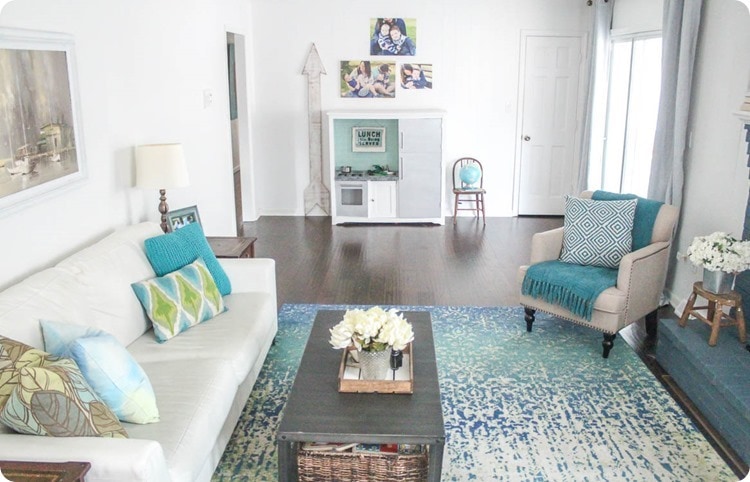 Bathroom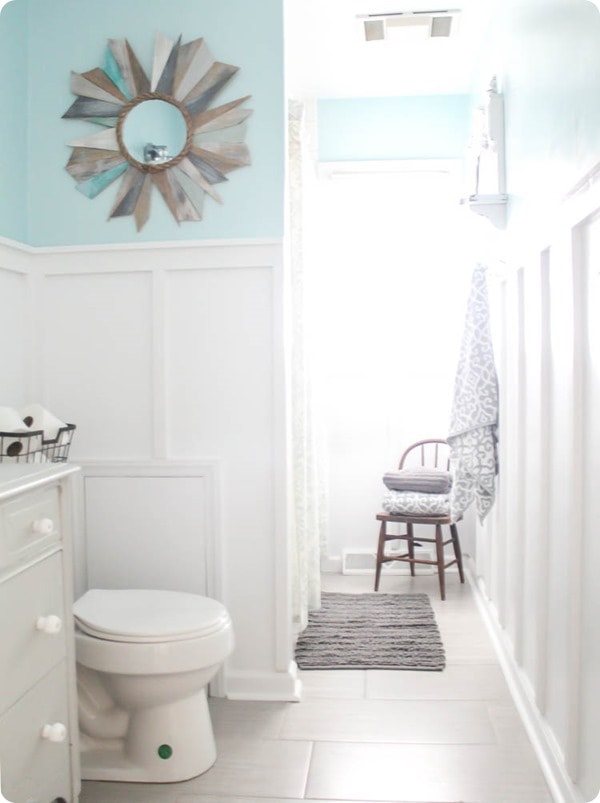 We just finished remodeling our main bathroom this spring and I am completely in love with it!  You can see the horrible before pictures along with the full budget breakdown and source list here.
DIY projects:

Master Bedroom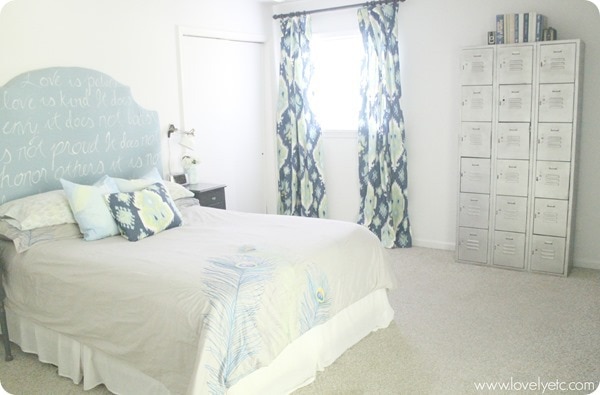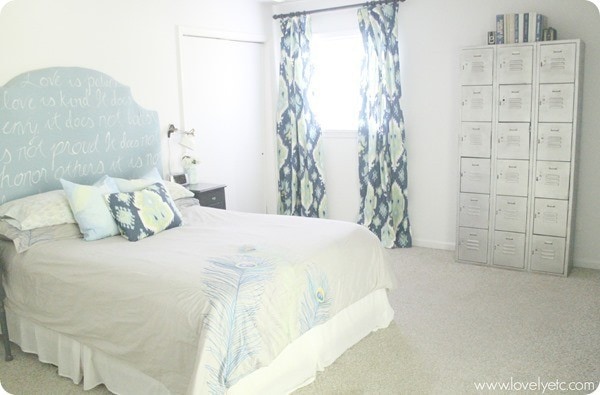 The master bedroom underwent a transformation to add in some color!  The highlight of the room is the DIY headboard, but I'm also pretty thrilled that all of the other furniture cost ten bucks or less. Woo-hoo for that! You can see the full room reveal with lots of photos and sources here.
DIY projects:
nightstands repurposed from an old vanity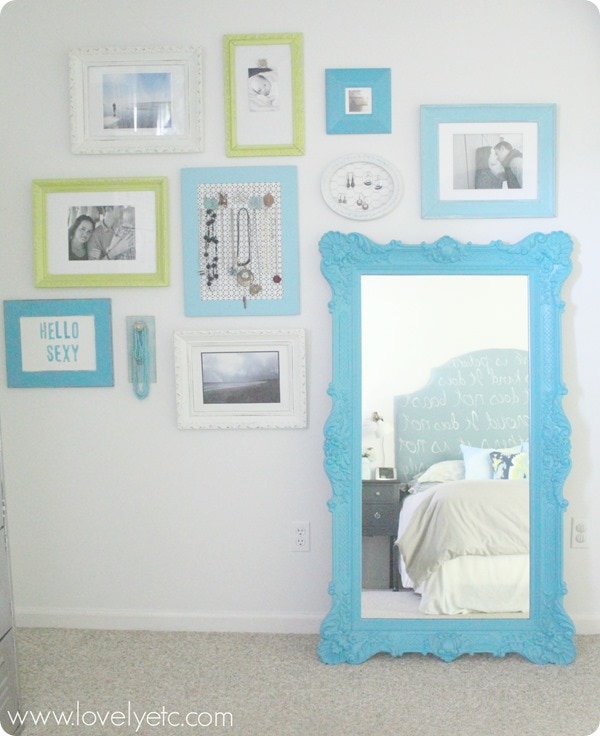 Griffin's Room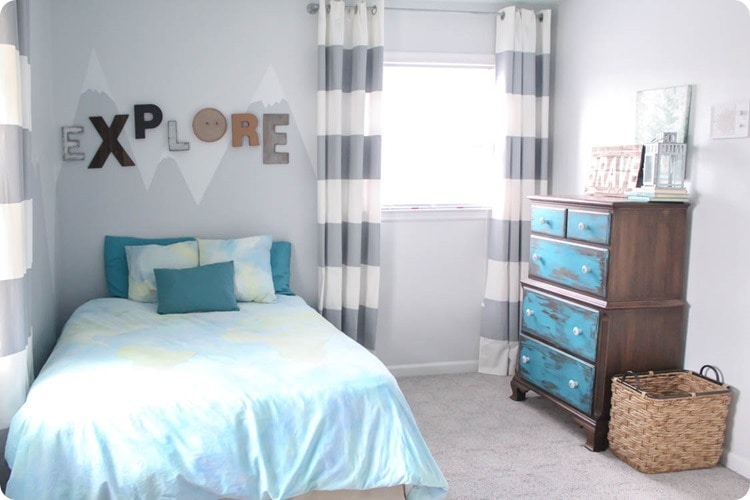 I had so much fun creating my four year old son Griffin's big boy room.  The room has a loose explorer theme and is full of quick DIY projects.   You can see the full room reveal here along with links to all of the DIY art along with the total cost breakdown.  (This room was less than $250!)
DIY projects: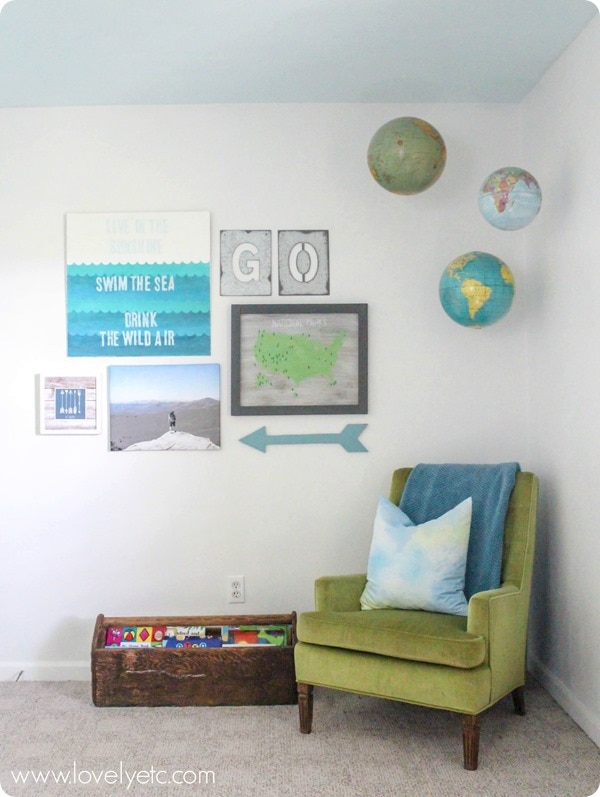 Nursery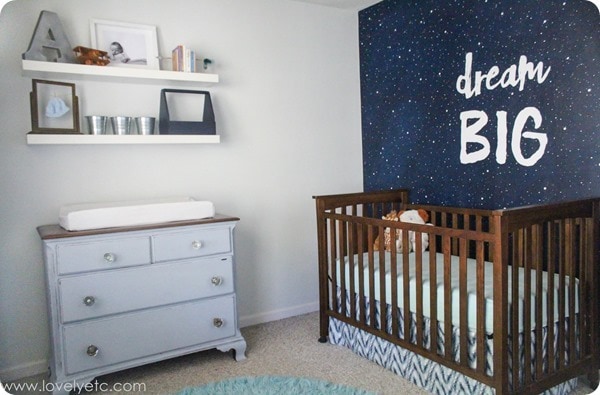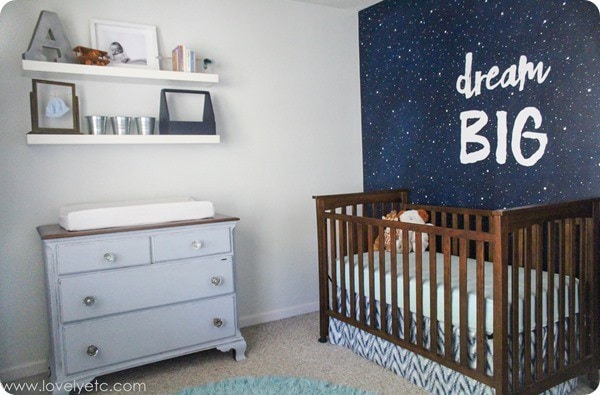 I'm pretty sure this nursery is currently my favorite room in the house!  That Dream Big wall is definitely the show stopper!  The rest of the room is filled with sweet mint, gray, and navy details.  You can check out all the details of this room here and if you are looking for nursery inspiration, you may also want to check out my first son's gray and aqua nursery as well.
DIY projects:
painted dresser with vintage doorknobs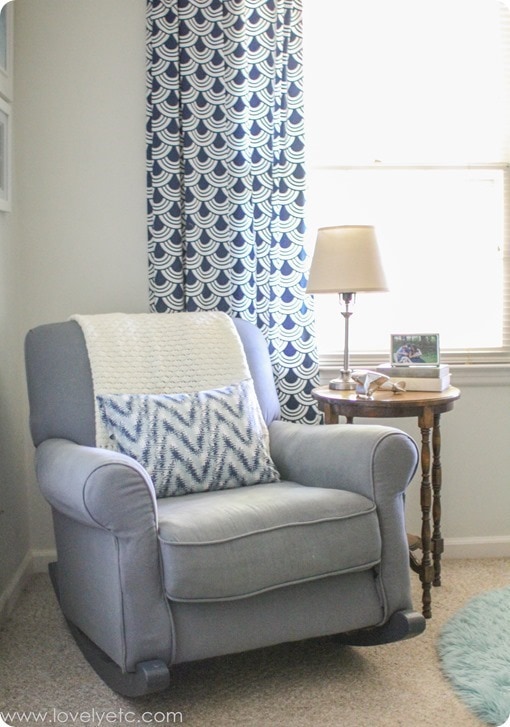 Screened Porch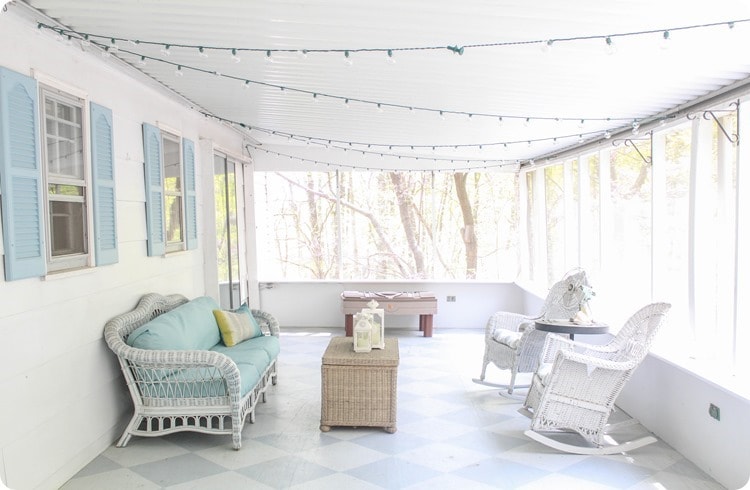 Our screened porch truly is the best room in our house. It is massive and has an incredible view. And it has come a long way from fake flowers and green indoor/outdoor carpet it was sporting when we moved in!
DIY projects: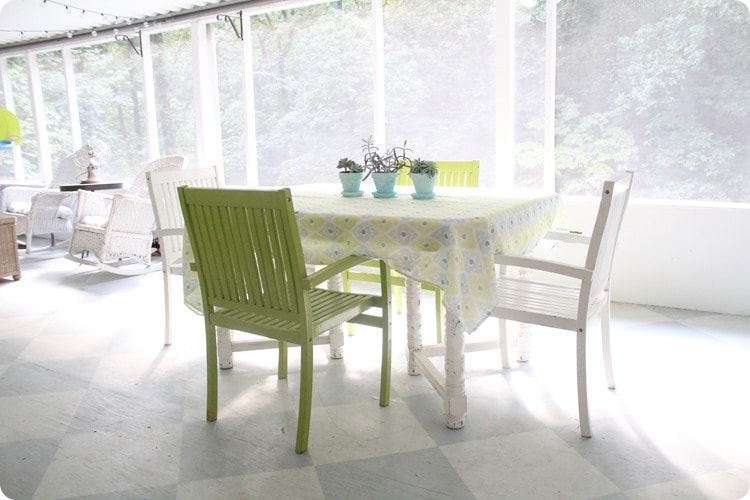 That's our tour!  If you are wondering, yes, we do have a kitchen as well.  It is so close to being finished and I will be sharing the reveal in the next few weeks hopefully.
In the meantime, if you love DIY and thrifty decorating as much as I do, I'd love for you to pin this image to Pinterest!