There are some rooms that you tweak and tweak, but something still seems off. Our living room is definitely one of those rooms. I have been slowly pulling our living room together for the past few years and while it is one of my favorite rooms in our house, it has never quite felt right. There were always a few lingering problems that just kept things from coming together.
But finally, finally I think I've figured it out.
I am a super slow decorator. Like snail speed. But even a snail reaches the finish line eventually. (How's that for an inspirational quote!)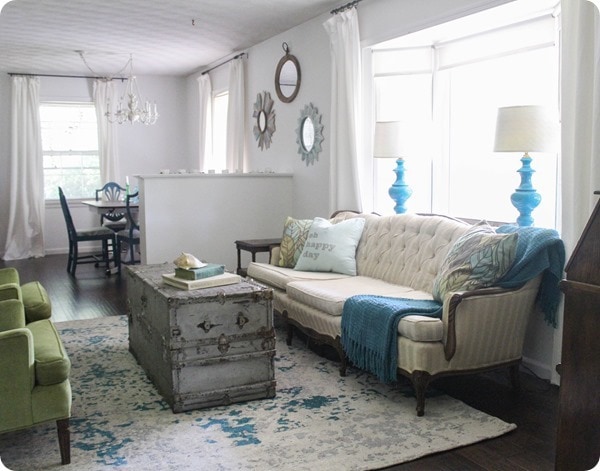 First, ever since we laid hardwood floors in here, I've been keeping an eye out for the perfect rug. The room was perfectly fine without a rug, but I knew a great rug would pull everything together and help the room look complete.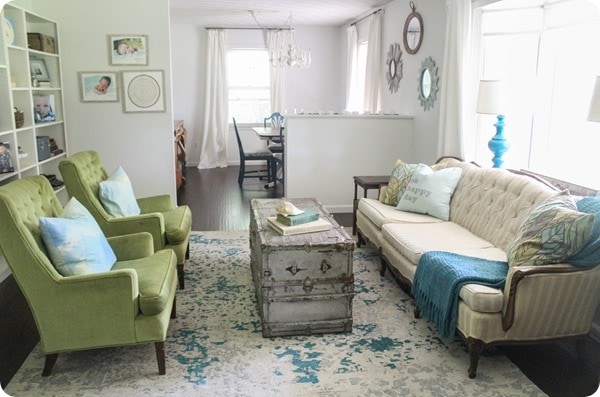 Recently I had the opportunity to choose a free rug from Rug Studio and I immediately started obsessing over which rug from their huge selection to choose. I knew I wanted something that was fairly neutral. (Teal is a neutral in this house!) I also wanted something with a random, undefined pattern. I've learned that a less crisp pattern is perfect for hiding any unfortunate spills and stains. I wanted something that would look great with both modern and vintage pieces (and the adjoining plank wall of course). And it had to be nice and big because there is nothing worse than a too small rug. (Ok, in the grand scheme there are lots of things that are worse than that. But when it comes to decorating, it is pretty bad.) After narrowing my choices down, I ultimately chose the Artistic Weavers Egypt Lara teal blue-silver area rug.
I'm not going to lie; I was extremely nervous when my new rug was delivered to my house. A huge rug is a big commitment and even though I spent a lot of time choosing one that was just right, there was always a chance it wasn't 'just right' in person after all. What if the colors looked different in person or it was scratchy and uncomfortable? What if it just looked terrible in my room? Thankfully, when I rolled it out, it was perfect. It definitely makes the room look more grounded and makes the eclectic collection of yard sale furniture look like they belong together. (And it feels great underfoot.)
The picture above is from my spring home tour two months ago. Pretty much everything is the same except the rug. It's kind of crazy how much better it looks with just that one change.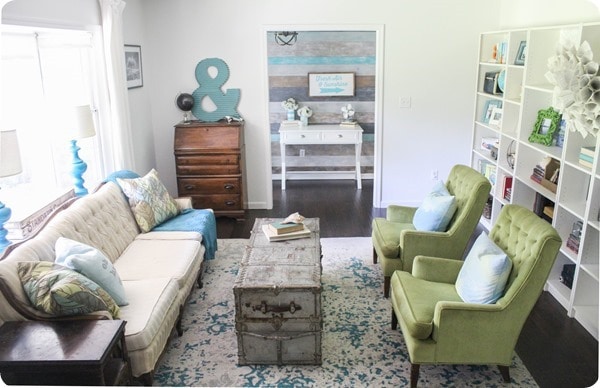 The second problem I've been having in this room was a big blank space above the half wall that separates the dining room from the living room. The wall was completely bare – and not in a good way. But because it straddled the division between two rooms, one big art piece would have looked really strange.
Last week when I finally turned a pile of scrap wood from my plank wall into a sunburst mirror, I came up with the perfect solution. I hung my new mirror along with a couple of other great mirrors I had stored away together. They compliment each other perfectly, the new scrap wood mirror perfectly ties into the plank wall in the adjoining foyer, and they manage to connect the two rooms without looking totally awkward.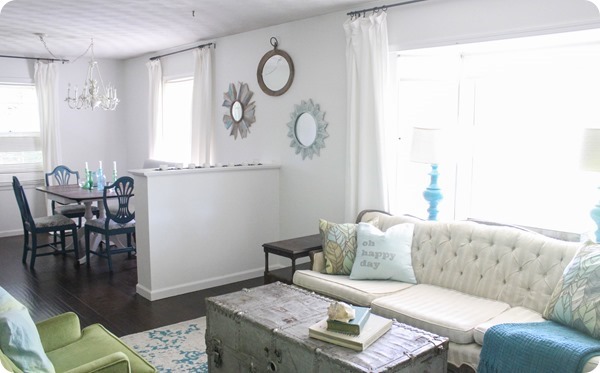 The last problem in this room? Lighting. This is one of those rooms where the builder saved a few bucks by not adding overhead lights to half of the rooms. A few months ago we had an electrician do all of the wiring to add some overhead lighting in here and I am in the process of finishing up a repurposed light for this room. I'll be sharing more about my light (which I am super excited about by the way) in a few weeks and then I am checking this room off my list. Wow that feels good.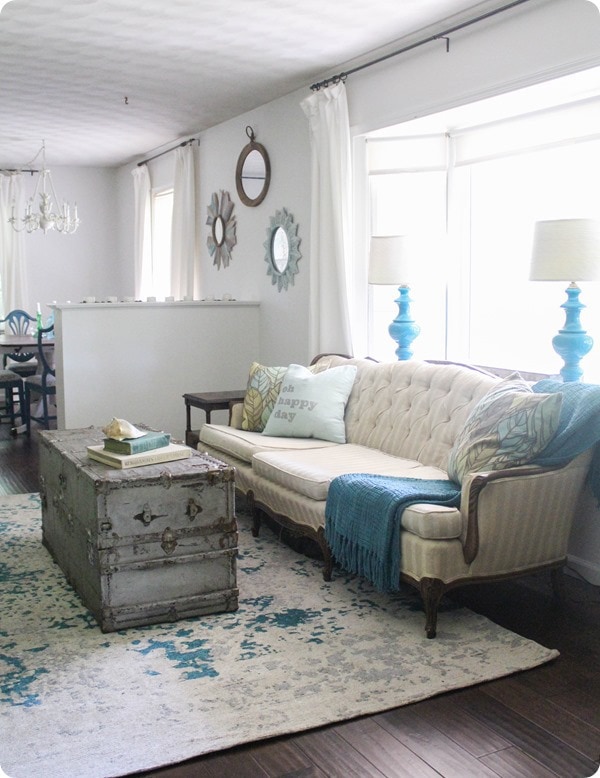 Here's to actually finishing a room!