Helloooo Spring!
I have a major treat for you guys today. Not only am I sharing my own spring home tour (which I am pretty excited about), I also rounded up a group of my favorite bloggers to share their own homes all decked out for spring. And on top of that, there's a $400 giveaway at the end of this post that I would love for one of you to win!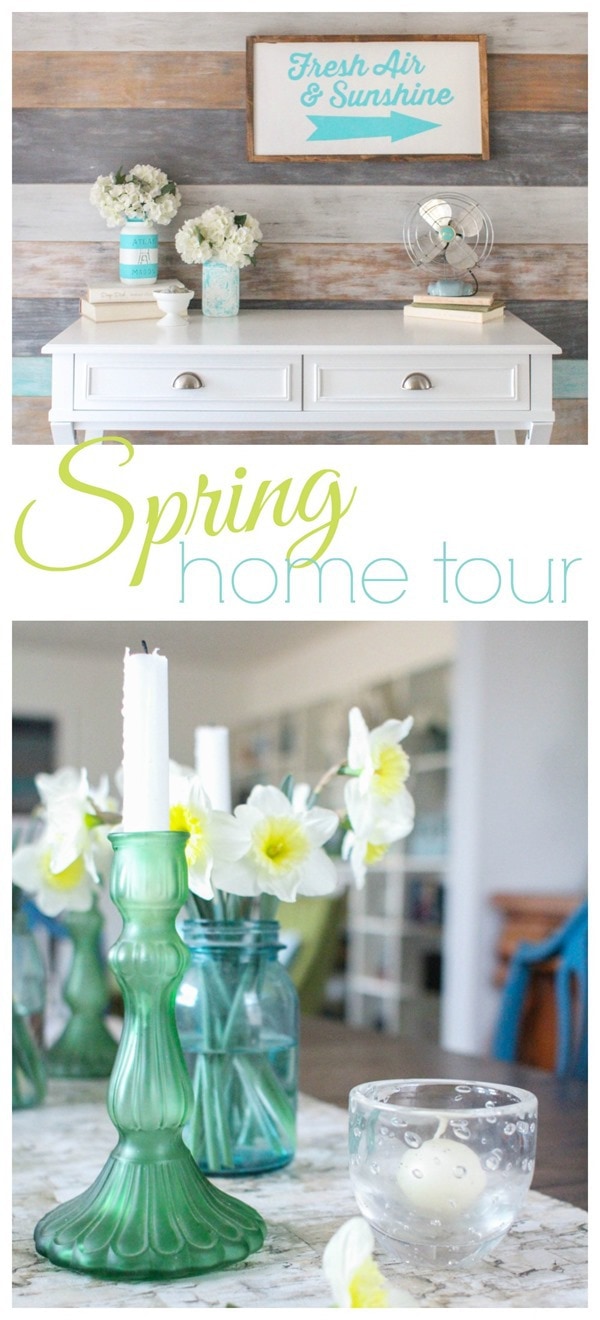 Spring is such a magical time. It's like the whole world wakes up from a long nap and bursts back into life. And as corny as it may sound, that is how I want my home to feel each spring as well. Full of color and life and optimism.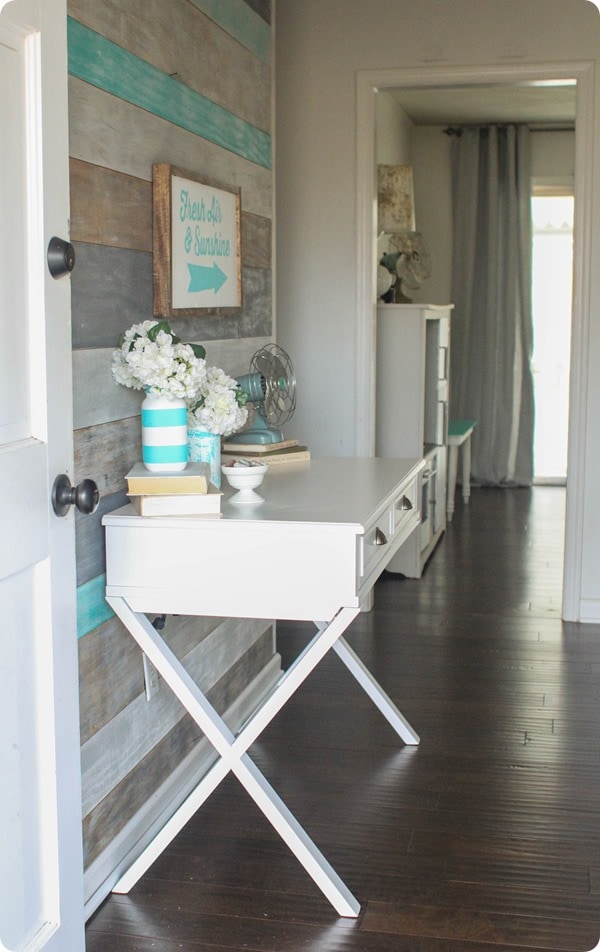 As I was taking these pictures, I realized that 99% of the things in these rooms were either DIY projects or they were scored at thrift stores and yard sales. Including the furniture. Seriously – I think I count three things that were bought brand new at the store. So I don't have a lot of sources to share with you, but I do have lots of DIY tutorials for you! As well as some yard sale shopping tips so you can snag your own amazing finds and make your own home beautiful and happy on the cheap!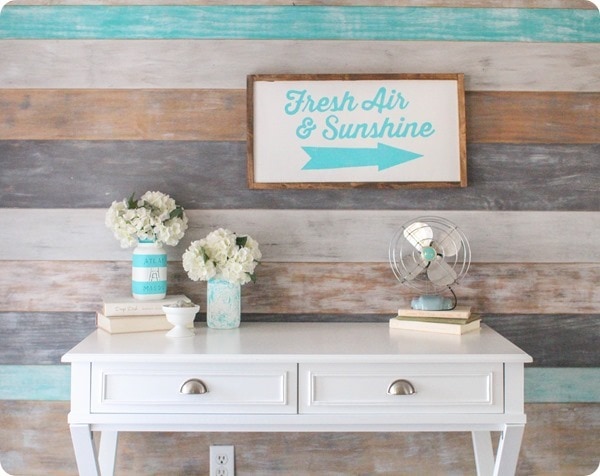 When you first walk in, you're greeted by my colorful painted plank wall. I freshened it up for spring with my new DIY Fresh Air and Sunshine sign, a little vintage fan, and a pair of painted mason jars.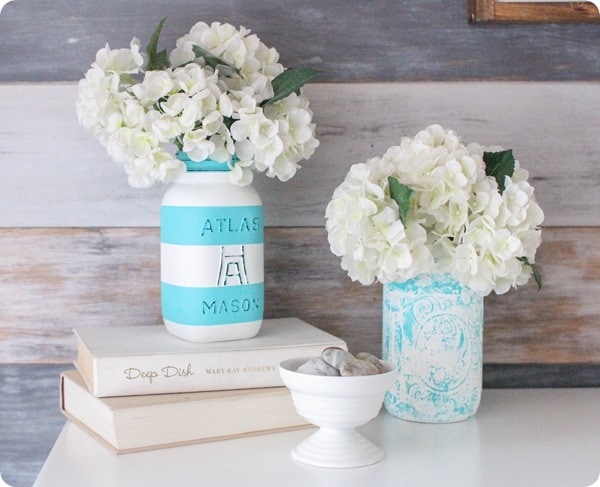 The striped mason jar and paisley mason jar are spring projects from the last few years and the little white dish is full of pretty rocks we've collected on summer road trips.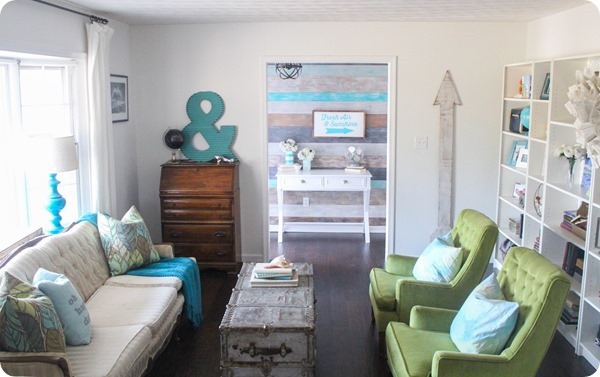 The foyer leads right into the living room. If you've been around long, you may remember this room used to have beautiful painted floors. As much as I miss my painted floors, I am loving how the hardwoods we installed are such a great blank canvas for decorating with lots of color!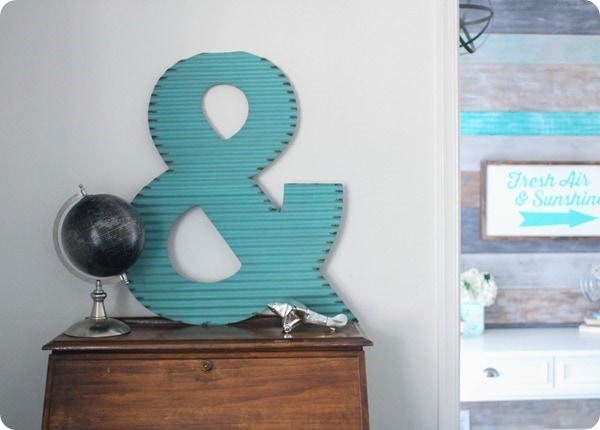 This giant metal ampersand is from Michael's and I am loving it. I had no idea I needed a giant ampersand in my life until I saw this guy! They still have these available online (affiliate link) but since it's a clearance item, they may not last long.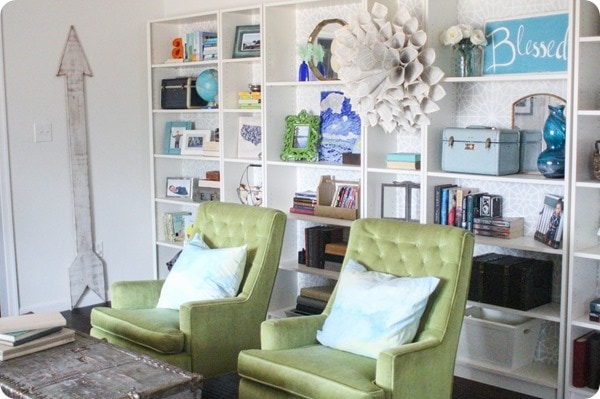 I picked up these fun green chairs at a yard sale last summer for only $30 and the bookcases are IKEA Billy bookcases that got a little upgrade with some paint and a stencil. The huge arrow is a DIY growth chart for keeping track of my boys' growth and the throw pillows are DIY watercolor pillows.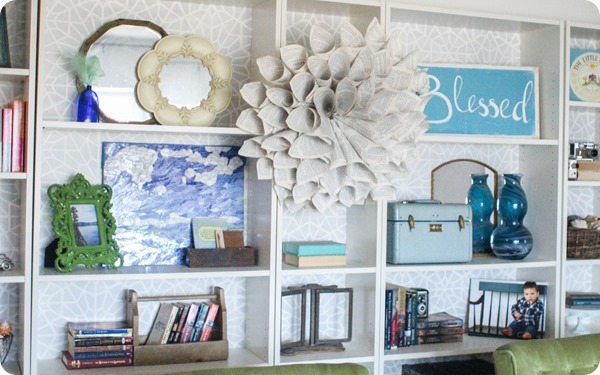 I made the huge book page wreath from pages salvaged from an old Bible and the Blessed sign and stained glass mosaic were also DIY projects. (I love that mosaic but it was not a quick project, that's for sure!)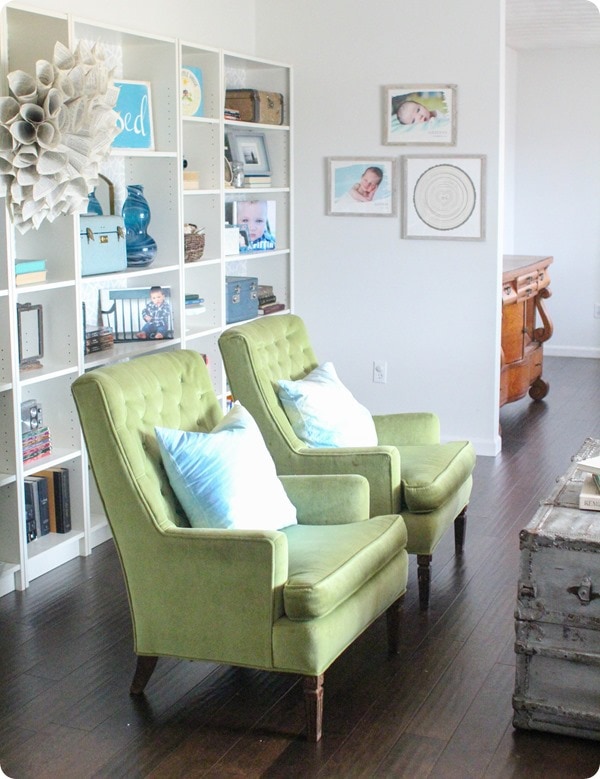 The living room leads right into the dining room.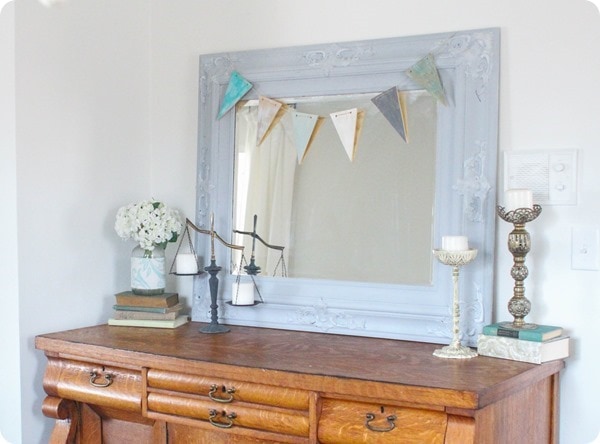 This antique buffet was the first real piece of furniture my husband and I ever bought and I'm pretty sure we'll never sell it. (And I will definitely never paint that beautiful wood!) The little wood banner hanging on the mirror was made from scraps of wood leftover from my plank wall.
Our dining table was a free Craigslist find that I refinished and the chairs were painted and then reupholstered using a shower curtain (which has held up great!) The gray leather settee is a new addition that I will be sharing more about later this week.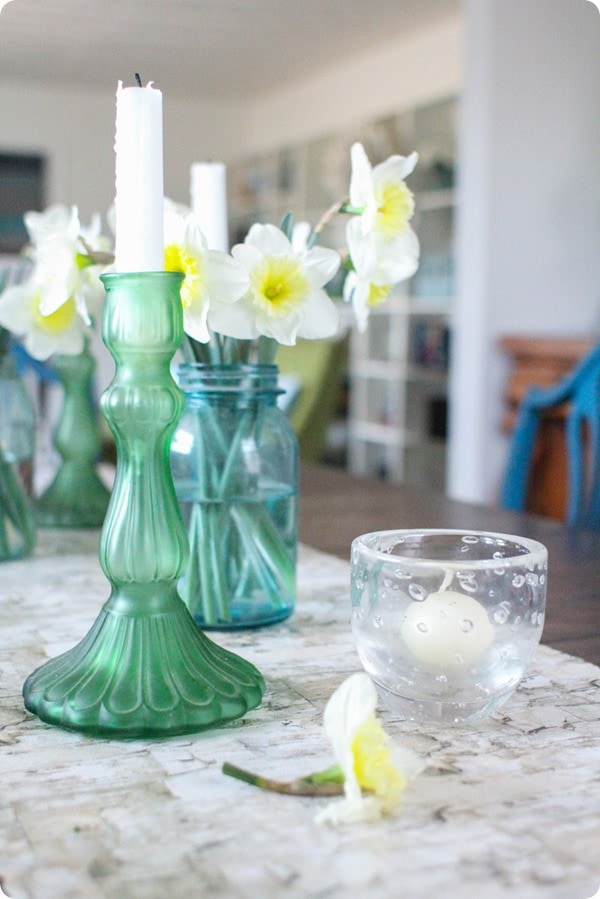 And this little arrangement of colorful glass and freshly blooming daffodils is making me ridiculously happy. You can find out more details about this table setting and find out what I repurposed to make that table runner right here.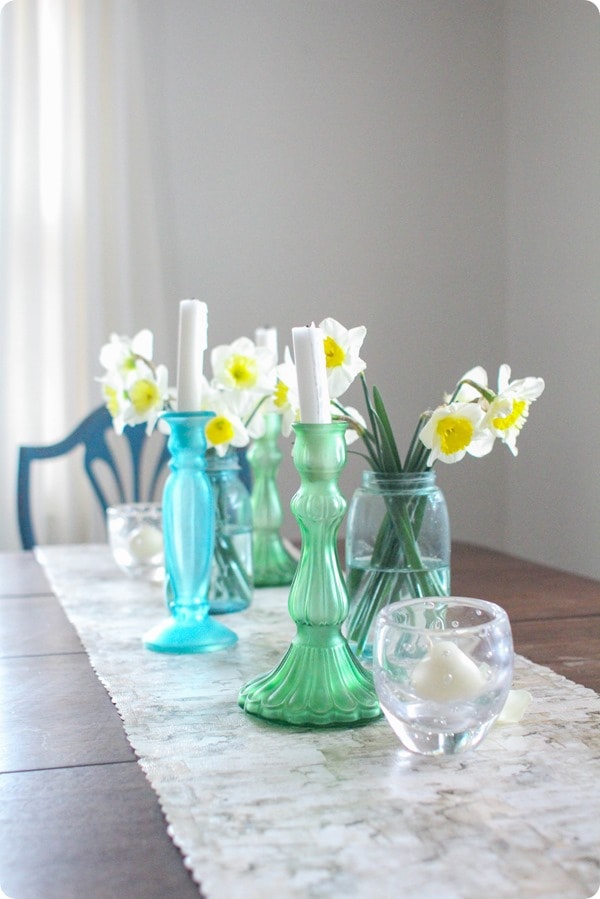 There are tons of daffodils growing in the woods behind our house, so my son and I went for a little walk together to gather some. So beautiful!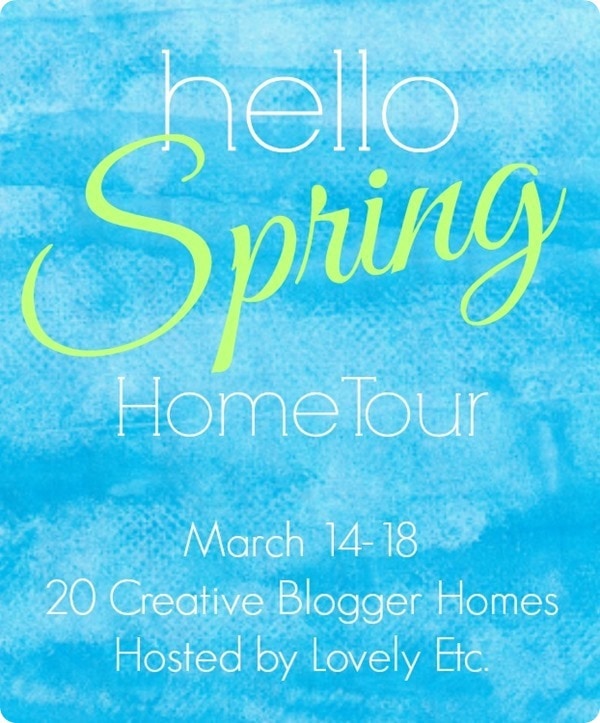 Now I know you are going to want to enter the giveaway and hopefully win some cash and then check out the other fabulous bloggers I rounded up to share their homes as well this week. These ladies are seriously full of great ideas and gorgeous style!
Monday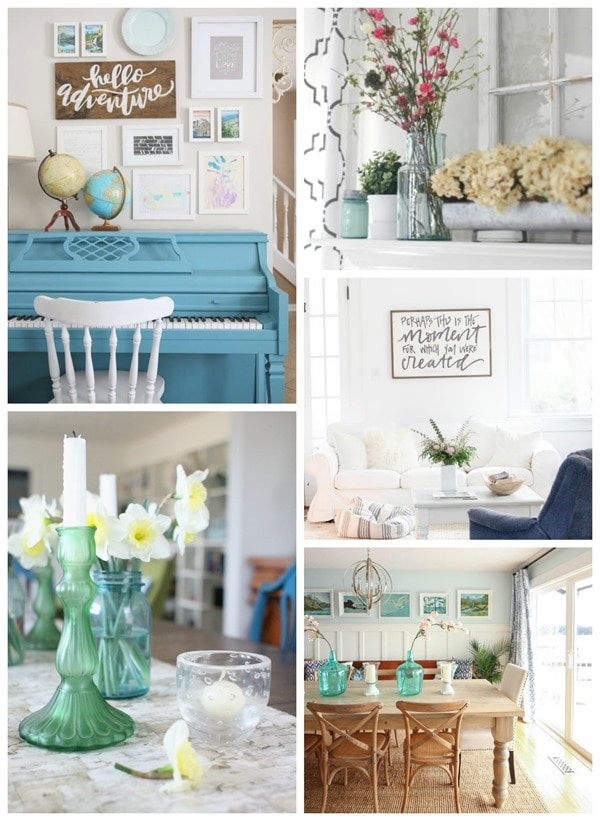 Tuesday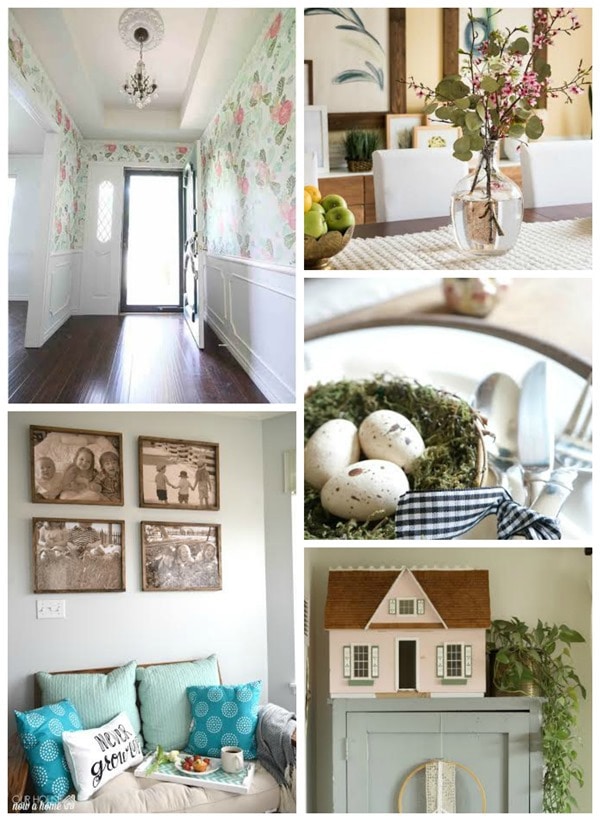 Wednesday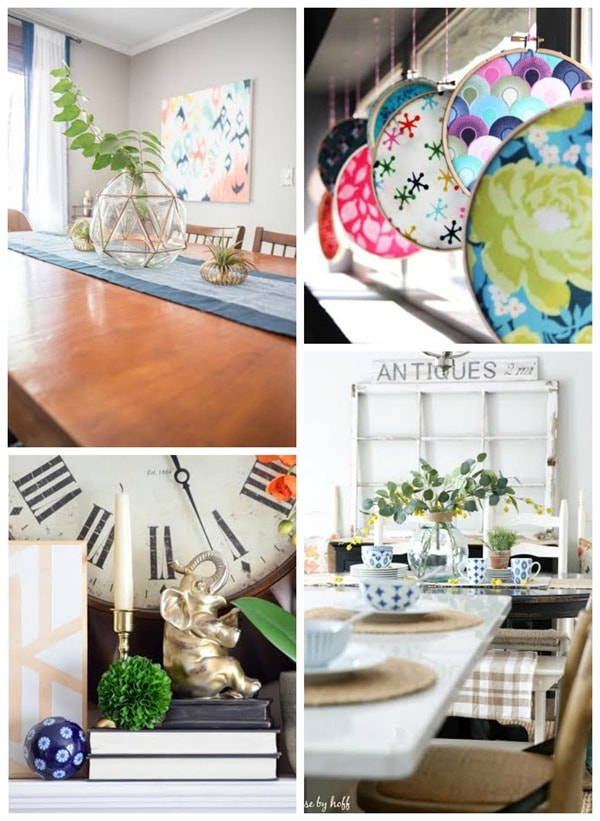 Thursday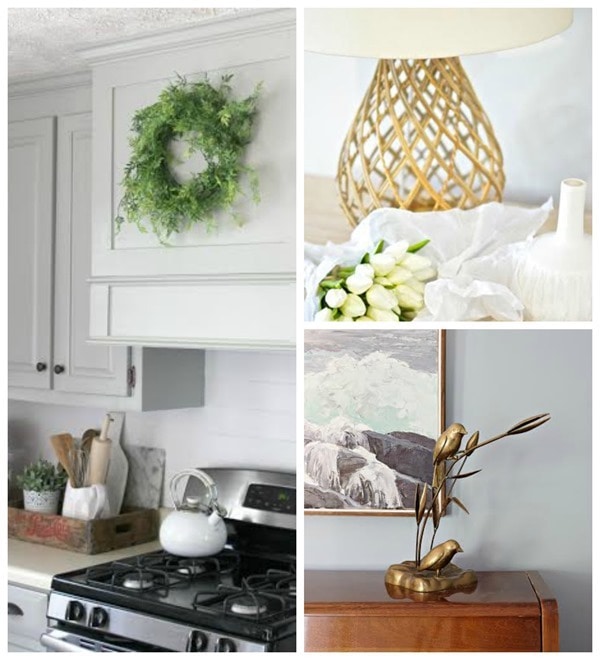 Friday
Have a fabulous spring! I'm linking this post at Work it Wednesday.